Discover Powerful Practices & Profound Wisdom to Ignite Your Life After 50!
Featured Speakers:
(click photo to learn more)

Jean Shinoda Bolen, MD

Dr. Judith Orloff

Riane Eisler

Yeye Luisah Teish

Anodea Judith

Grandmother Flordemayo

Cynthia James

Dr. Joan Borysenko

Annie B Kay

Rev. Deborah L. Johnson

Katie Hendricks

Camille Maurine

Sharon Salzberg

Sarah Marshank

Reverend Mutima Imani

Vicki Robin

Katherine Woodward Thomas

Ann Louise Gittleman

Grandmother SaSa (Swan of the North)

Barbara J. Winter

Tomasa Macapinlac

Debra Giusti

Celestine Star

Moetu-Taiha

Renee Baribeau

Suzanne B. O'Brien

Dr. Davina Kotulski

Virginia Bell

Uma Girish

Dr. Andrea D. Sullivan

Dr. Lani Simpson

Francesca McCartney

Debora Wayne

Caroline Muir

Mandy Carter

Carol Orsborn

Carol Trasatto

Dr. Tara Allmen

Ellen Eatough

Anaiya Sophia

Michelle Marchildon
With Host: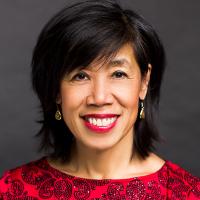 Sabrina Chaw
CEO, A Feminine Feast
Are you ready to flourish in your "next act?"
Are you ready to reclaim your life once and for all, and create the solid foundation from which you can flourish — the financial security and a home community you love and that support you, as well as healthy, vibrant and energized later years?
Are you passionate about fulfilling your true purpose — to be the voice of wisdom and lived experience, to guide the world toward the change that we so desperately need?
You've lived a rich life, filled with knowledge, experiences, and accomplishments... and you may now be asking yourself, "What's next?"
"What's the opening, the opportunity, the possibility for me? What have I always longed to do, but have never done?" Maybe you find yourself thinking, "I've loved my career, my family, but I dream of doing _________ (fill in the blank)..."
In our mainstream culture, there's an underlying message that after you arrive at a certain age, you've already achieved your goals, reached your pinnacle, and mastered what was meant for you in this lifetime.
What's worse is that many of us internalize this voice unknowingly, and we stop dreaming about bigger lives for ourselves and our futures. We settle for less relevant roles or accept physical, mental, emotional, or spiritual limitations as the status quo.
Yet, the life experiences you've navigated, the path you've pioneered, the work you've done in the world, is only the beginning — a launchpad into an inspiring, fulfilling "third act," where you give and receive in equal parts, enriching the lives of others and making a difference in everything you do.
Thriving in Your Third Act is here to equip and empower you to live fully!
We'll offer you a path into your next adventure, with easy-to-pick-up-and-run-with tools, tips, and practices that will help you manifest your highest potential!
You'll hear from bold leaders who are on fire with possibility and purpose. Women who will guide you with their hard-earned wisdom and who will support your personal journey of transformation at whatever stage of life you're in.
Join this one-of-a-kind online event (at no charge) to learn from top experts in the emerging fields of women's empowerment and conscious aging — who are illuminating the path for you as you step into your full potential and fulfill your highest mission and purpose!
Here's some of what our brilliant speakers will be sharing with you...
| | |
| --- | --- |
| | Discover the goddesses and archetypes that are active in the postmenopausal phase of your live… and how to be a "juicy crone" with Jean Shinoda Bolen. |
| | Ignite the power of your empathy and intuition to enhance your health, work, relationships, and emotional and physical wellbeing with Dr. Judith Orloff. |
| | Yeye Luisah Teish will explore change as a natural element in the cycle of life and provide guidelines for creating Sacred Space to accommodate change. |
| | Anodea Judith will demonstrate how you can use the map of the chakra system to manifest your highest aspirations — from purpose to vision — and fulfill your deepest desires on the earth plane. |
| | Grandmother Flordemayo will show how to express yourself spiritually as you become an elder — and offer prayers & practices for embracing your feminine wisdom. |
| | Step into the fullest expression of yourself as you journey to a new adventure after 50 with Cynthia James. |
| | Dr. Joan Borysenko will reveal how to avoid the midlife "happiness dip" by retraining your brain, plus practices for worry-proofing yourself. |
| | Annie Kay will shed light on the role of stress as the most critical (yet under appreciated!) nutrition issue of our time as she unpacks resilience, nature, food & you! |
| | Reverend Deborah Johnson will reveal how the process of aging helps to cultivate our powers of discernment... making us wiser, more perceptive, and more capable of finding the virtue in our reality. |
| | Embody your inner boldness, expand your capacities in standing for love, and discover surprising, yet effective ways of releasing decades of tension with Katie Hendricks. |
| | Meet the varying intensities of different life situations with short meditation practices that are in alignment with your womanly core with Camille Maurine. |
| | Sharon Salzberg will illuminate how real love can be developed and nurtured aso it becomes the foundation of real connection and the basis of true happiness. |
| | And MORE! |
Your passion and your wisdom are not only vital for your life... they're also key to solving the issues facing our precious planet and our global family. Sign up for this exploration of all that's possible as you step into your next act.
You'll be in great hands with summit host Sabrina Chaw, whose work is in passionately guiding women to unleash their vitality and vibrancy, bringing out their courage, juice, and power... excavating their blocks, transforming them into love, and empowering them to live the innate gifts they yearn to live!
She has supported thousands of women in embodying the truth and power of their feminine being, and we know you'll love her too!
Co-Sponsors